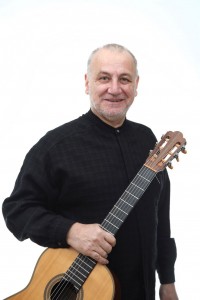 Ahmet KANNECİ was born in Turkey on June 21st, 1957. He began his music (theory) studies with one of Turkey's leading composers, Turgay ERDENER, and continued later on with İstemihan TAVİLOĞLU and ALİ SEVGİ. After meeting Julian BYZANTINE in 1977, his interest turned totally to classical guitar performances. He continued his studies with Julian BYZANTINE, while studying at the METU Department of Architecture. Four years later, while graduating from the Department of Architecture, he was awarded a scholarship from the Spanish Government to study with
José TOMAS at the "Conservatorio Superior de Musica Oscar Esplá de Alicante". He has had the privilege of playing for Alirio DIAZ and receiving his critical acclaim.
When he returned to his native country, Turkey, he was the first to found the classical guitar departments in four different conservatories. In 1993, he was awarded by Fulbright, a scholarship for research in the USA for which he was awarded with "Life Time Achievement in Art". He was also awarded "Honorary Doctorate" by Harran University and Isparta S.D. University, Turkey, the
"Award of Appreciation" by Middle East Technical University, Turkey, the "Art Award" by Hacettepe University, Turkey and the" Guitarist of the Year Award" given fort he first time by Yıldız Technical University, Turkey. In addition to his musical activities in Turkey, he appeared
in Europe, Asja, and in Americas at various concert halls such as Museo Andrés Segovia (Spain),
Carnegie Hall (USA), Merkin Concert Hall (USA), Royal Festival Hall (UK) and Teatro Colon (Argentina). Besides his solo guitar concerts, he gave duo concerts with several artists such as Victor PIKAIZEN (Violin), Ayhan ERMAN ( Violin), Jorge CARDOSO (Guitar), Selva ERDENER (Soprano), Dorothy RANDOLPH (Baroque Violin),Şefika KUTLUER (Flute), Ekrem OZTAN (Clarinette), Hiroki Terashima (Guitar), Javier Garcia MORENO (Guitar), Diler ARGAT (Piano), Sibel OZGÜN
(Piano), and Ataol BEHRAMOLU (Poet). He was also the soloist several times in guitar concertos
with orchestra.
Currently KANNECI is the chairman of the Department of Guitar at Hacettepe University State Conservatory and he is giving guitar courses at Sevda – Cenap AND Music Foundation in Ankara. He concentrates on performing works which have been dedicated to him, and is conducting research in guitar music that he has started with the distinguished Turkish guitarist Sava ÇEKİRGE. The following modern composers have written compositions and dedicated them to him: T. ERDENER, F. SAY, J. CARDOSO, F. ORTIZ, E. BAYRAKTAR, H. E. KORKMAZ, I. TAVİLOĞLU, N. BOSNA, M.A. CHERUBITO,C. PADRO,T.WALKER, M.TOROS,T. SHAHIDI,
M. HOSHINO, H.TERASHIMA, F. CUENCA.